The first on-site meeting of the E-ROUTES team was held on October 6 and 7, 2022 in Belgrade. The venue was the Faculty of Organizational Sciences of the University of Belgrade (FON).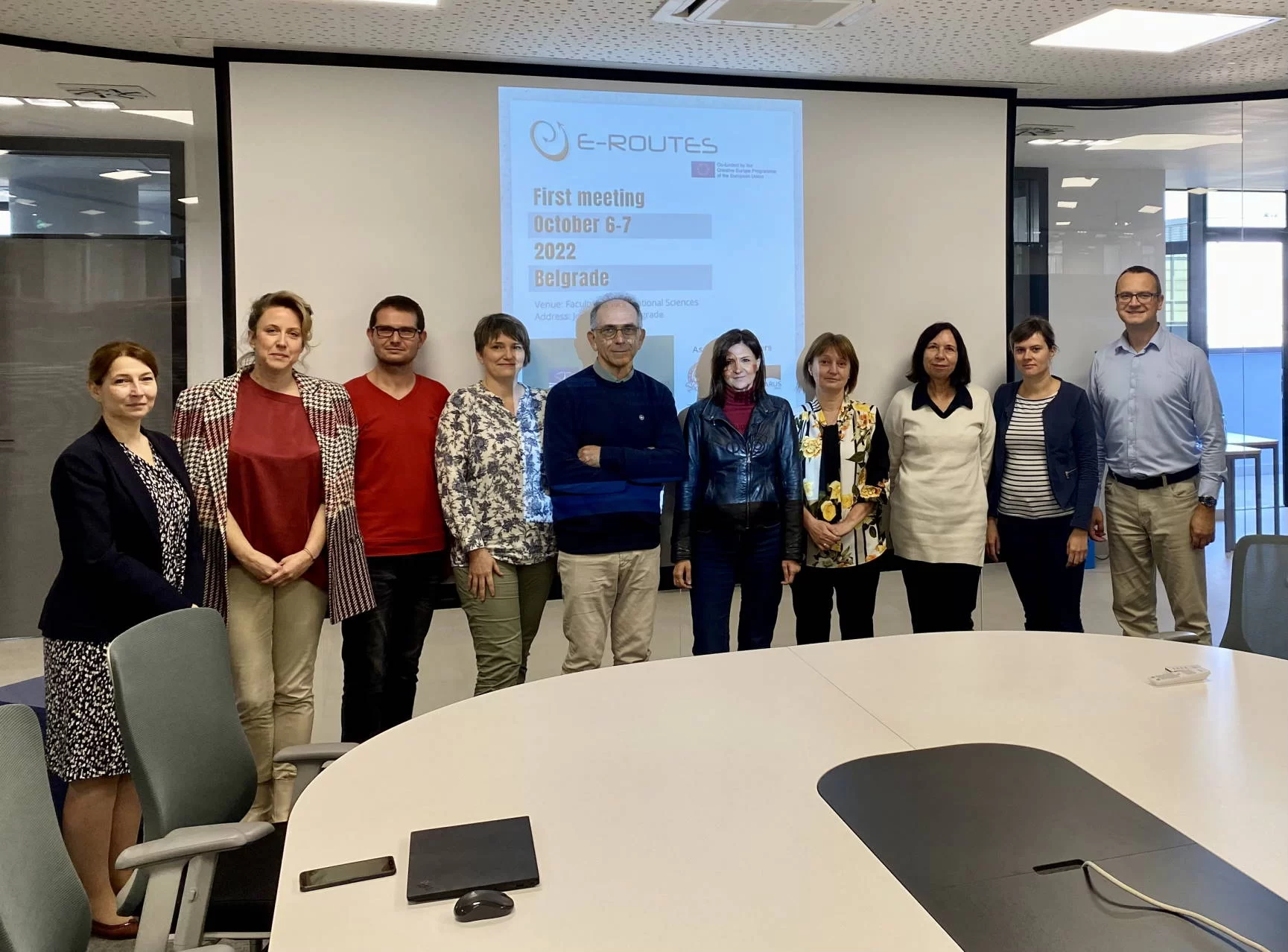 In the meeting opening, the project coordinator dr Bogdan Trifunović introduced to the FON representatives prof. dr. Sandra Jednak and prof. dr. Dušan Barać, project consortium, as well as the idea, planned activities and goals of the project.
Professor Jednak presented the structure, study programs, projects and activities in the field of international cooperation of FON through a presentation.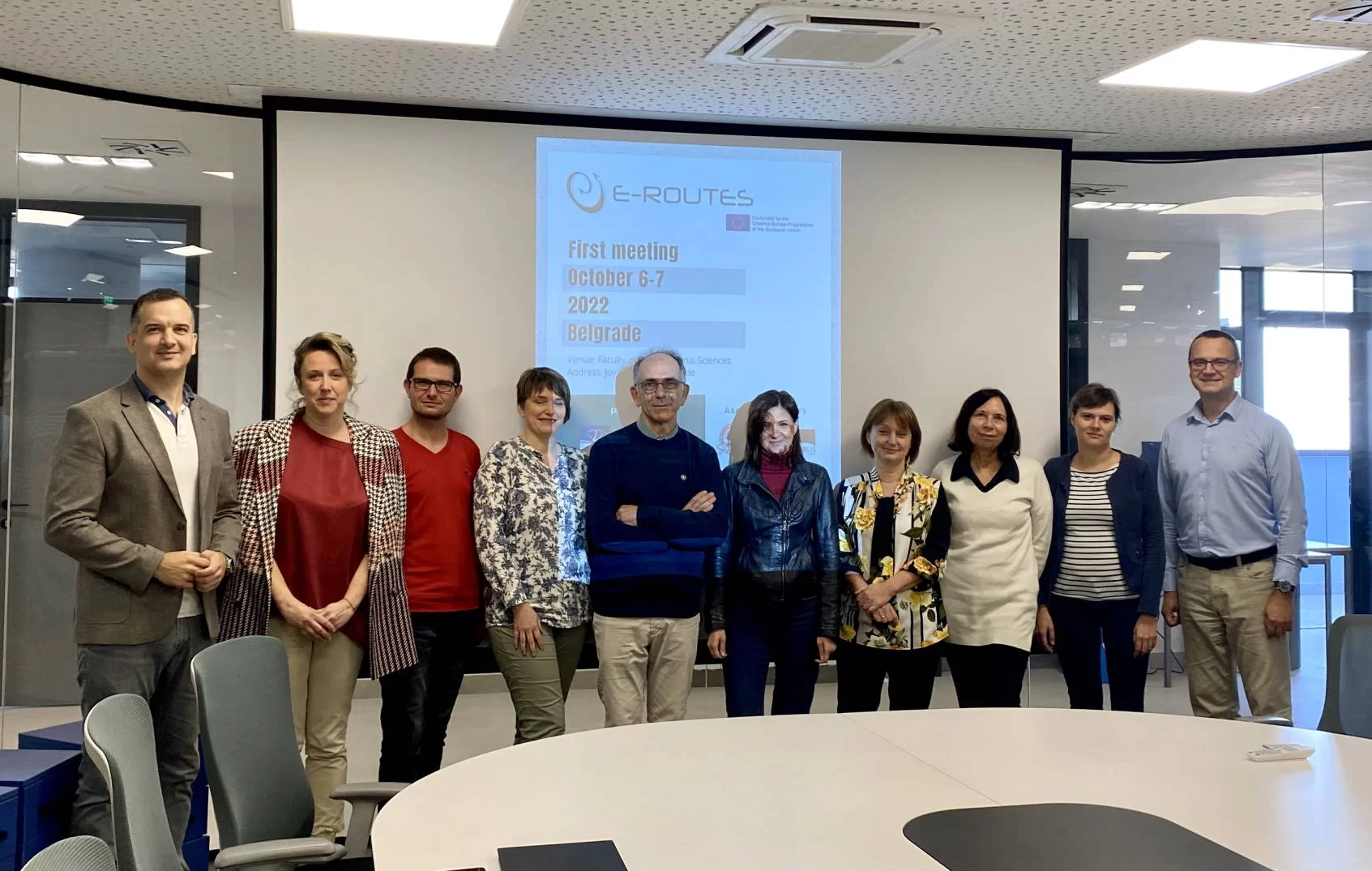 Working sessions of the meeting on both days consisted of presentations by project partners that opened up topics for further discussions regarding ongoing and upcoming project activities. Representatives of the four project partners and one associated partner were present on both days of the meeting: Jelena Glišović, Nikola Petaković, and Bogdan Trifunović on behalf of the Serbian Library Association, Vlatka Lemić (ICARUS Croatia), Renata Šolar and Barbara Jasenovac (National and University Library of Slovenia), Antonello Migliozzi (UNINA–Centro MUSA, Italy), Olivera Krivošić and Sonja Ivanović (Matica Srpska Library, Novi Sad).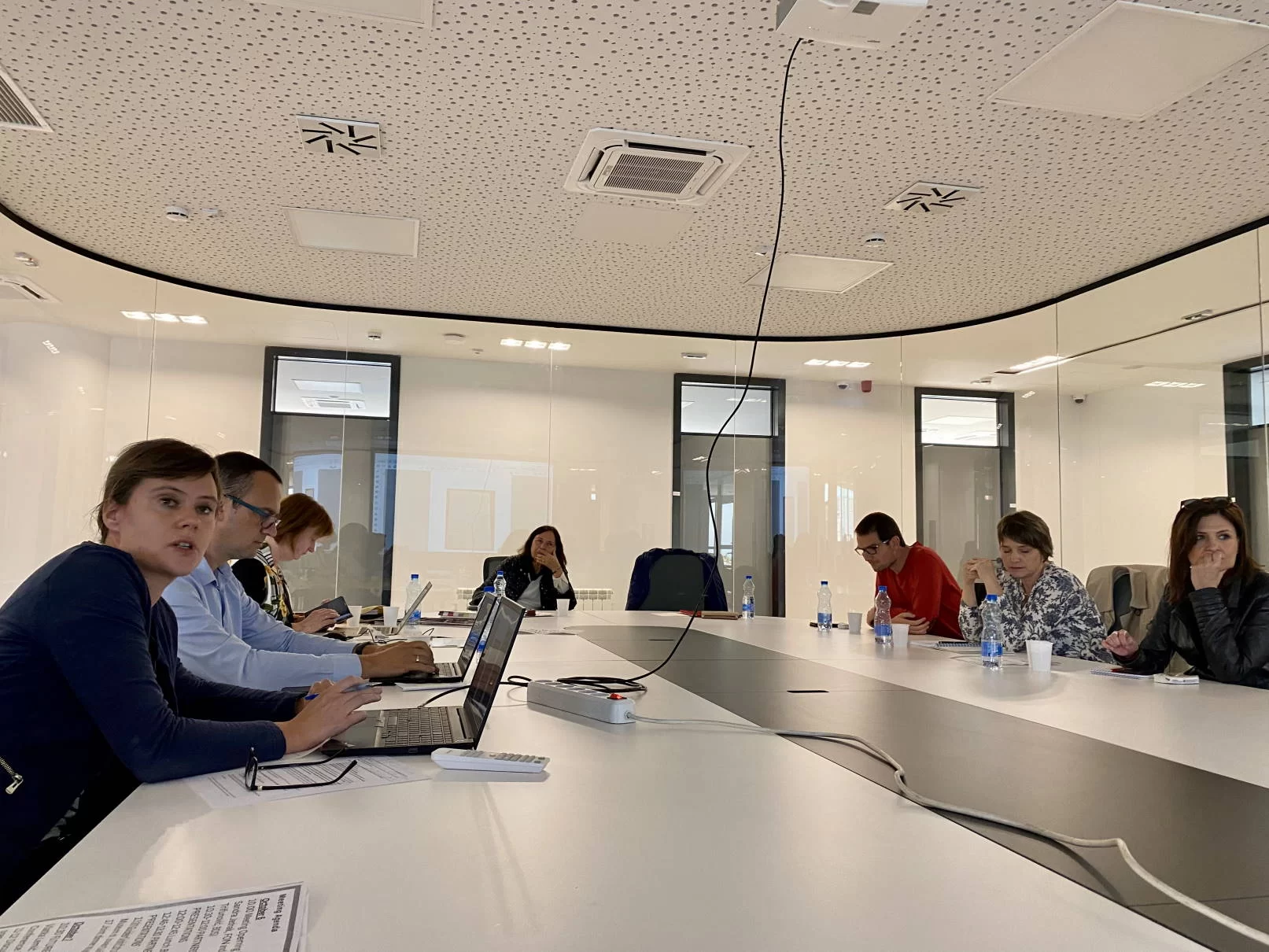 During the meeting, the partners had time to share their thoughts, ideas, suggestions and dilemmas about the specific tasks they are working on. At the beginning of the meeting, common goals were determined which were successfully achieved by the end of the work and which included the framework for further implementation of the first phase of the project.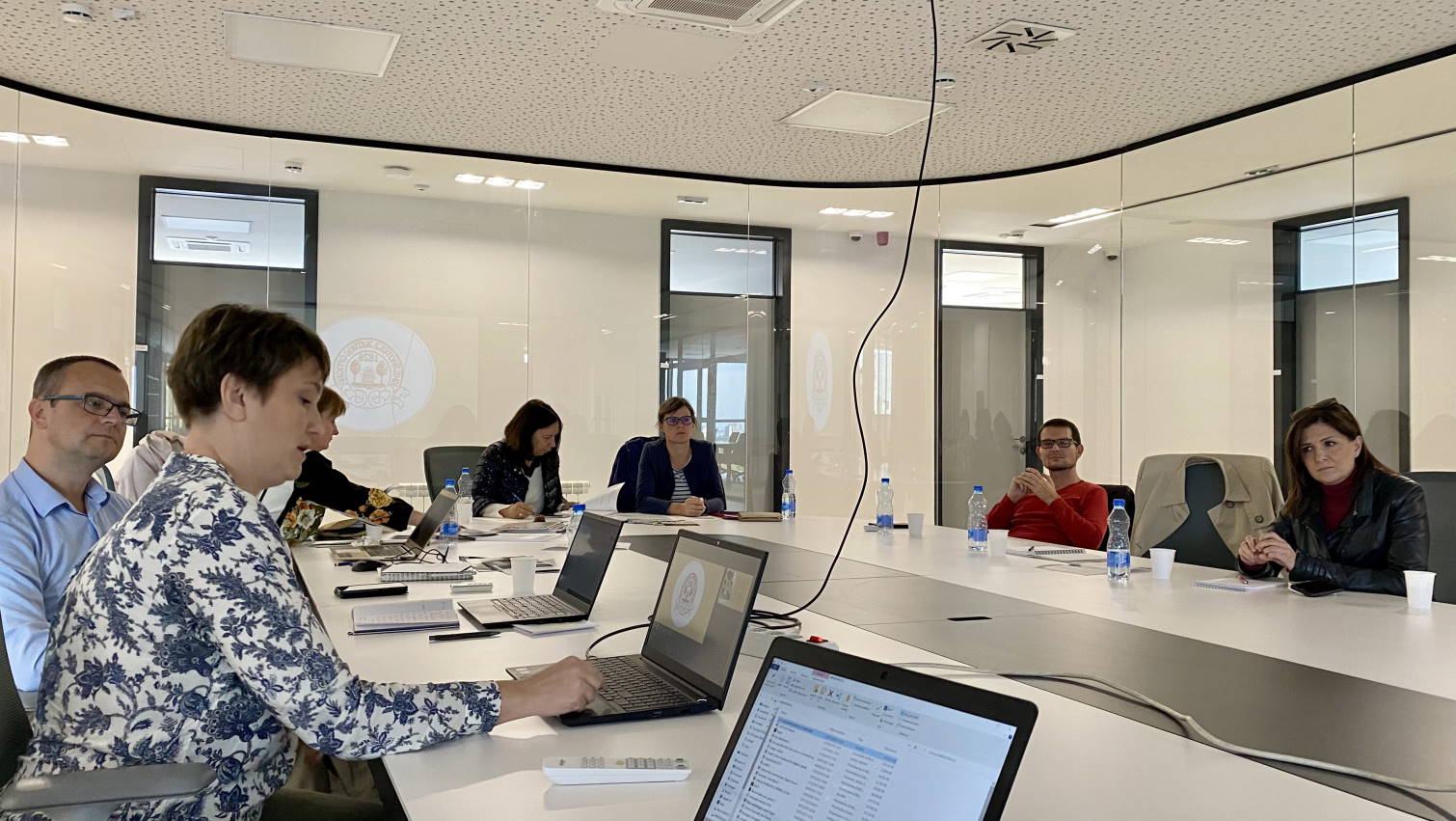 The result of the meeting was also an agreement on the organization of the first of two planned international conferences, which will be held next year in Šibenik (Croatia).
The participants used the breaks between the working parts of the meeting for informal exchange and networking, considering that this meeting was the first personal gathering of the closest project team.
Social events were also organized during this two-day meeting. The first of them was a visit to the Museum of Jovan Cvijić, one of the greatest Serbian scientists, a leading geographer of the late 19th and early 20th centuries and an influential intellectual.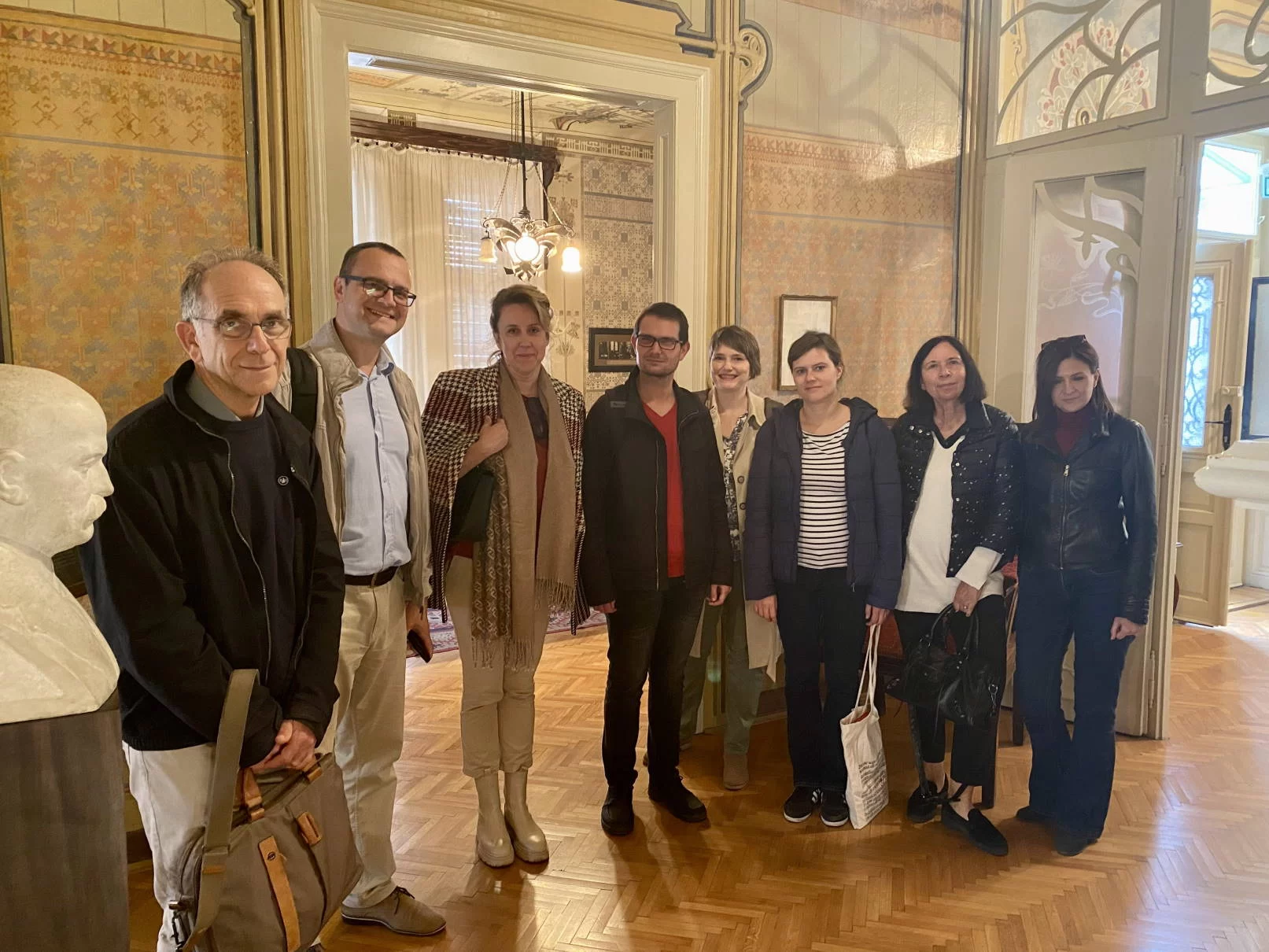 After visiting the museum, the E-ROUTUS team enjoyed a joint dinner at the "Question Mark" tavern, where they were given short excerpts from the history of this oldest restaurant in Belgrade. On the second day of the meeting, after the working sessions, the participants had the opportunity to learn about the possibilities and capacities of the FON, thanks to guided tour given by prof. Jednak, who on behalf of the faculty expressed her openness for cooperation and further joint activities in the future.